Misc Calculators Page updated 3/13/02
Here are some unusual examples of calculator history from my collection.
Some of these are for sale or trade, as noted.
As of this date most have in fact been traded! More to come when time permits...
Please e-mail me if interested.
---
National Semiconductor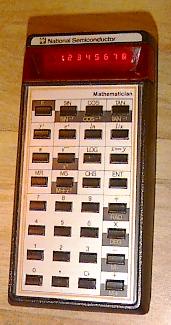 "Mathematician" "Financier"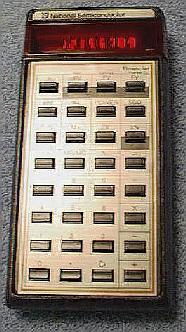 These were the top-of-the line from National in 1975, a complementary pair of handhelds in nearly-identical cases...I also have another Mathematician in a white case with the "Novus" logo.
The Mathematician is an early LED scientific calculator, one of the few non-HP units to employ RPN logic.

The Financier uses a combination of adding-machine and algebraic entry and has a number of
time-value-of-money functions built in.
I would prefer to trade these for a classic HP, particularly an HP-70, but will consider cash offers.
---
Sanyo ICC-804D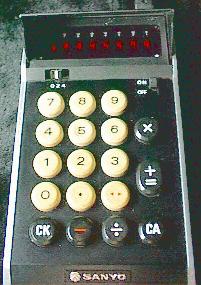 Unusual design with a flip-up shade on the display. Internal NiCds plus original AC adapter.
Works, but some display segments don't light up. (TRADED)
---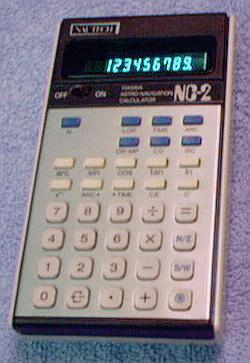 Tamaya "Nautech" NC-2 Astro-Navigation Calculator

A scientific calculator with vacuum-flourescent display which has special function keys for navigation:
LOP, Time, ARC, DR-MP, CD, & GC . Quick reference chart on back of unit. Comes in a hinged,
fitted wooden case with some typed operating notes inside. Obtained from USAF surplus sale.
(TRADED for an HP model)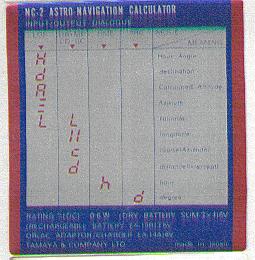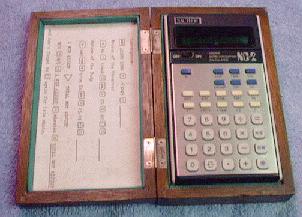 I
---
Commodore N60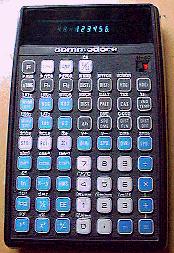 An incredible 60 keys cover the front of this wide-body calculator.
Full scientific plus special air-navigation functions.
Vacuum flourescent display, internal NiCd battery.
This was a clean example and working but I traded it away
without using it because I didn't have the manual... but recently
fellow collector Katie Wasserman was kind enough to send me a PDF
of the manual. If you need a copy email me and I'll make it available.
---

Unisonic Model 888 "Slide Rulette"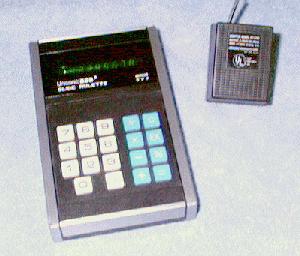 A basic 4-function calculator with green vacuum-flourescent display.
Percent and EX (exchange operands) keys.
Includes original Unisonic ac adapter. Very good condition and working. $25.
---
KingsPoint SPM-100 "Electronic Slide Rule"
Display is eight individual small vacuum-flourescent tubes.
Four-function plus memory and auto-constant, and an odd
combination of adding-machine and arithmetic logic. (TRADED)
---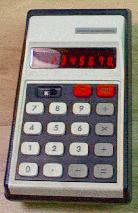 Sperry- Remington 807B.
One of the earliest LED pocket calculators.
Apparently made by Casio. [Not for Sale/Trade]
---
Casio "MINI" Model CM-605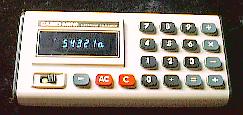 An attractively-designed four function model with 6-digit vacuum flourescent display.
It can calculate to 12 digits, though: the six most significant are shown, but pressing the > key
shows the last six. Also unusual - the zero is small, "o" instead of "0".
---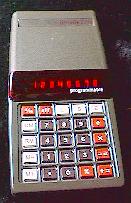 Litronix 2290
Four function LED with memory. Unusual appearance due to battery case above display.
Has primitive "programming" capability which memorizes a few keystrokes. (Trade offer?)
---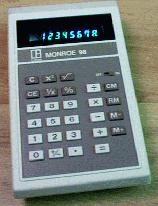 Litton - Monroe 98
Green flourescent display with memory & square root functions. TRADED.
---
Radio Shack EC-3000 Printing Calculator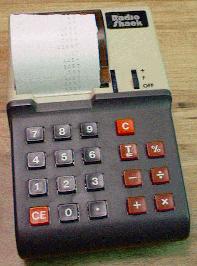 Unusual, early calculator made in Sweden for RS. No display, just thermal printout. TRADED.

---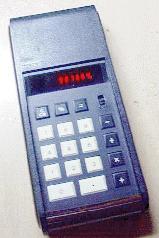 Sears Model 728.5822 (made by Bowmar)
LED calculator with unusual key layout and roll-top case.
Uses either NiCd pack or AA batteries. Instruction book. (make offer)
---
National Semiconductor "Quiz Kid"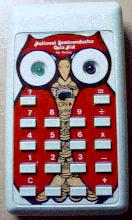 Not a terribly useful calculator, really...
You have to supply the answer, it tells you if you're right with red/green eyes. [SOLD]
---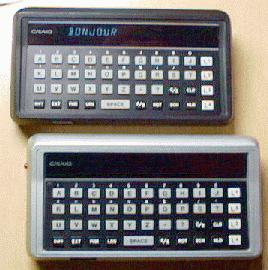 Craig M100 Language Translators
OK, not really calculators at all, but handheld bilingual dictionaries. Translates words or
phrases into various languages based on the ROM modules installed. The black one
has English/ Spanish / French while the silver one has English/ Spanish/ Phonetic.
Green flourescent display. Eats batteries fast!
---